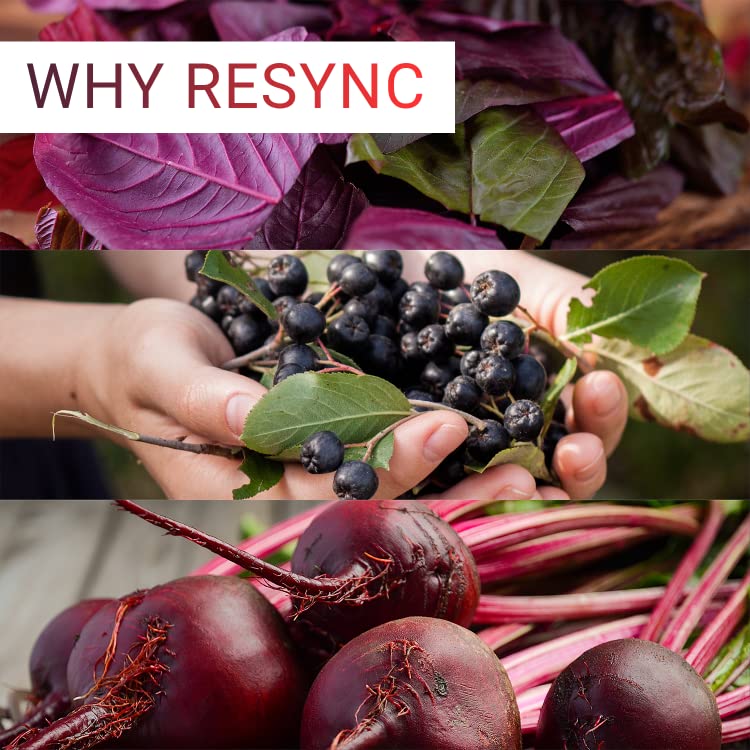 At Resync, it starts with the most effective reds nature has to offer - red spinach, red beets & Aronia berry - the main messengers supporting nitric oxide. Nitric oxide is an important molecule in many organ systems throughout the human body and is critical for our well-being. That's why these reds are the core of every Resync product.
There are many different reds in nature. Yet, one red does not equal another, and there is not one red alone that can effectively support the health of your cells. Just like there is not a single ingredient, one vitamin, one mineral, or one amino acid that can consistently support any molecule in the body, including nitric oxide.
We know our reds are powerful, not just in their color. They naturally contain higher amounts of nitrates, and anti-inflammatory properties, without sugar, which are immensely helpful in recovery, whether from exercise, travel, or stressful-exhausting days.
Resync is consistent, scientifically driven, and unconditionally committed to your well-being. Our products have been trusted by functional medicine doctors, registered dietitian, chiropractors, strength coaches, and athletes worldwide since 2017.
Red Spinach Extract, Aronia Berry & Red Beets – Resync Reds

RED SPINACHThe red spinach extract used in Resync has the highest level of standardization at 9% of nitrates vs red beet powder naturally contains 1.5%-2%. The adequate quantity of red spinach makes Resync one of the best, if not the best red blend on the market.
1.5 Scoops of RESYNC = 6.5oz. of Spinach or Arugula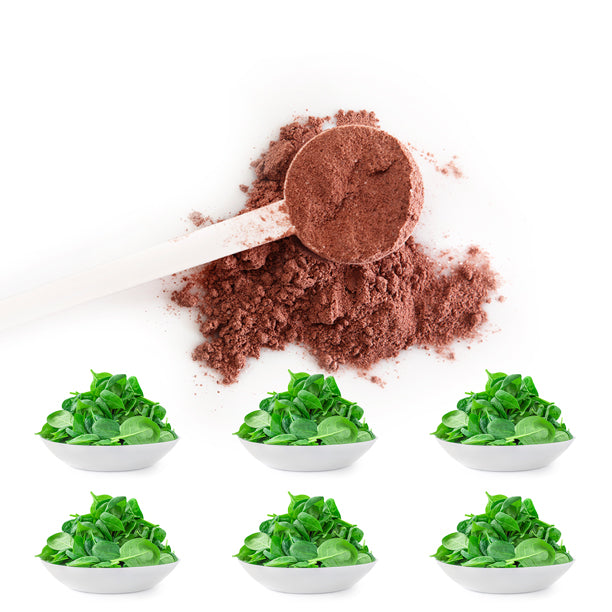 ARONIA BERRY Aronia is one of the most powerful antioxidants in nature. When paired with red beets and red spinach, it maximizes the health of every cell in the body.
Higher in antioxidants than most berries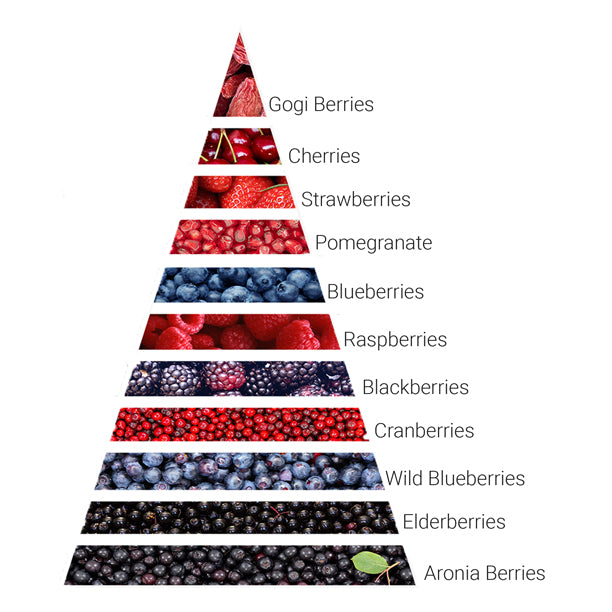 RED BEETS Many Many beet-based products have an added, unnatural/synthetic source of nitrate or nitrite, like sodium nitrate or sodium nitrite, to spike the nitrate levels. Resync only uses nitrates found naturally in red beets.
1 Scoop or RESYNC = 32oz. of Beet Juice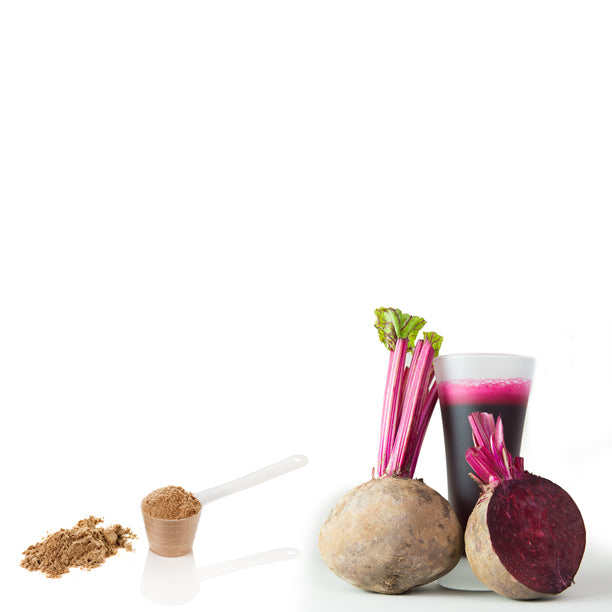 ENERGY
Ingredients in Resync support blood flow which is vital for energy production.

Digestive health
Our plant-based dietary fibers support your gut microbiome health.

JOYFUL AGING
Keep your heart healthy with Resync reds and other plant-based synergistic ingredients.

BRAIN HEALTH
Clinically formulated plant-based blends to support your brain cognitive function.

immune HEALTH
Essential vitamins and antioxidants in Resync support your immunity to help you stay active every day.

superior recovery
Feeling well rested by the end of the day is essential for your physical and emotional balance.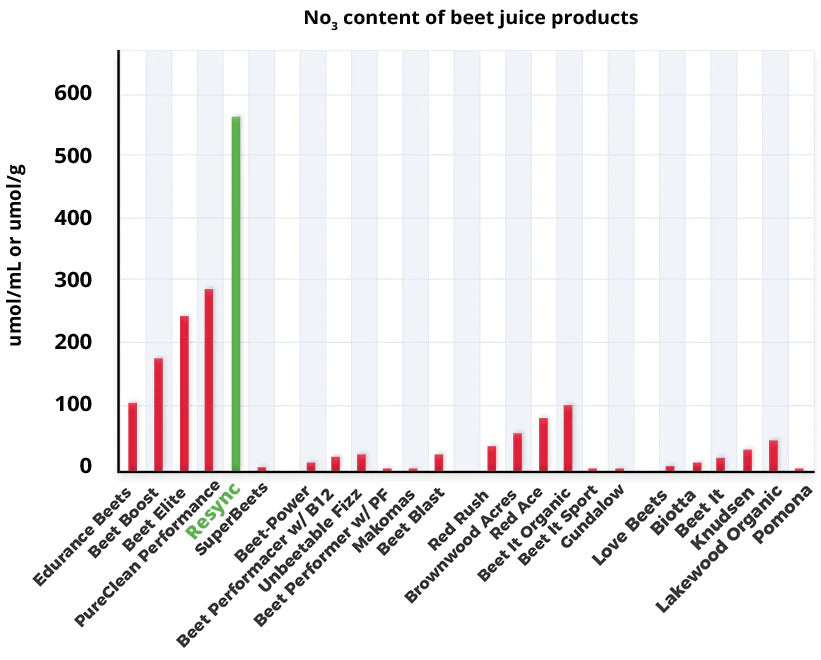 proven through science
We are extremely excited that a third-party study performed by IUPUI has confirmed the quality of our products.

A pioneering, independent study done by Indiana University-Purdue University Indianapolis shows the inconsistency in nitrate content of different beet-related products. The University tested beet powders, beet mixed beverages, beet concentrates, and bulk beet juices. During those tests, there was an obvious difference in the nitrate content between the 24 tested products.

These results were not a part of the published study by the university. The authors included products with beets ONLY in their final publication. Nonetheless, Resync feels it's important to show the differences between just beets and Resync.

"I'm grateful for having the opportunity to prove that Resync stands out amongst so many already well-known brands which fell short when compared to Resync. This data only confirms the quality of Resync."
- Barbara Depta Resync's CEO
LEARN MORE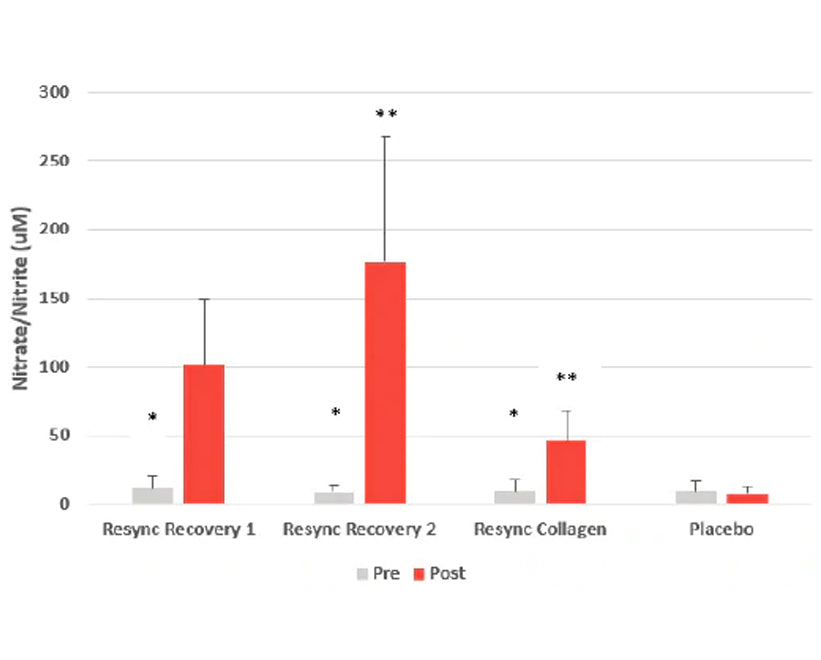 Human Clinical Studies
First Human Study On Resync Recovery And Resync Collagen

As some of the most high quality nitric oxide boosting supplements on the market, Resync Recovery and Resync Collagen have a tribal following, and now there's data (link to study here) to shed some light on the potency of our patent-pending blends.

Resync Recovery is a mix of three nitrate and polyphenol sources, anti-inflammatory components like ginger and turmeric and other key recovery nutrients, and Resync Collagen is the heart, joint and connective tissue powerhouse developed by elite high performance and structural balance coach Barbara Depta.

We set standards high with our quality-certified, natural synergistic blends, and with this study we have cleared that bar easily in pursuit of the next frontier in clean supplement science.
LEARN MORE
"There's been a great deal of interest in beets because they're rich sources of nitrate. But the hidden fact that we are coming to appreciate is that actual nitrate content between products varies significantly ... the nitrate contents were generally low...falling far short of the amount (310-560mg) suggested by International Olympic Committee as being needed to improve performance."
-Andrew Coggan | Co-author of No3 Content Study
RESYNC
Vegan
Non-GMO
Gluten Free
Sugar Free
No Artificial Sweeteners
Keto Friendly
OTHER BRANDS
Listed in above IUPIU chart
Under 300g of No3 Content
Contain Sugar
Synthetic/Unnatural Nitrates
Not Keto Friendly
Just Beets
No Synergistic Ingredients
WHY RESYNC?
Resync relies on science, human studies, quality, and effective quantities of synergistic ingredients for all Resync products. Regardless if you want to support your energy, recover faster from physical activity and address muscle soreness or joint discomfort, support your immune or digestive system, Resync is the reliable and safe choice.
Professionals Who Use RESYNC
Now it's time for you to take care of every layer of your body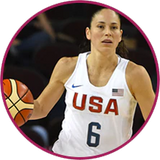 "I use this product called Resync. It's essentially a recovery powder. I find that my sleep numbers are way better when I'm using it."
- Sue Bird
| WNBA Player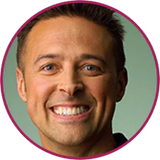 "Resync works better than beet powder to deliver nitric oxide & improve recovery from training faster!"
- Chris Frederick
| Stretch to Win Co-Director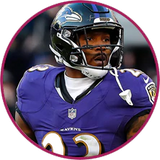 "... I don't think I've ever had a supplement all natural & good like this where I can just wake up and feel like a brand new person."
- Tony Jefferson
| NFL Baltimore Ravens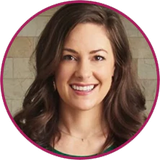 "I love Resync (I drink it daily) and what it does for my players. I am a stickler for picking vitamins and supplements using critical thinking and science... and this isone I love!"
- Ashley Besecker
| Registered Sports Dietitician
Shop Resync