Think You Have The Best Nitric Oxide Supplement?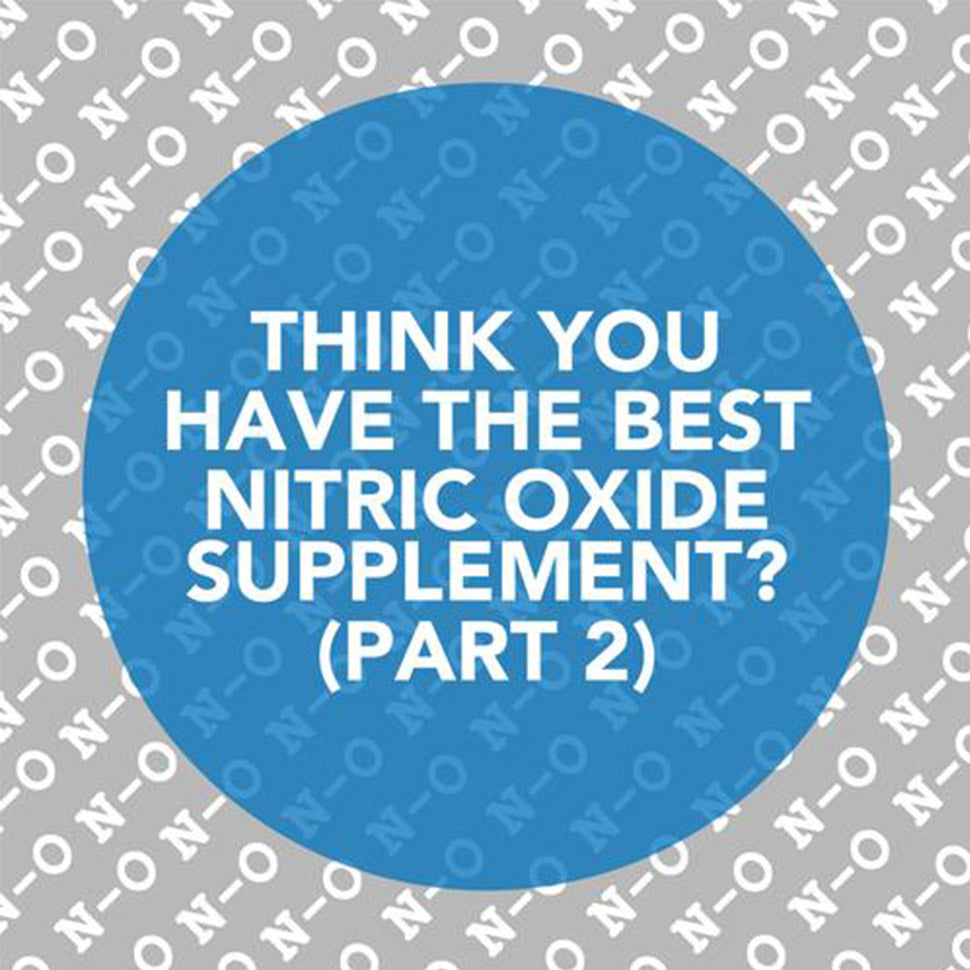 Nitric oxide supplements are not created equal.  Learn more about what makes a good nitric oxide supplement and which brands stand above the rest.
Our Review Process
If you want to know our review process, why each of these criteria are important, and who can benefit from a nitric oxide supplement, check out
part 1 of this blog post
. If you want to back it up even further and learn more about the powerful nitric oxide molecule,
check out our page that explains the science here.
We grade the most popular and the highest quality natural nitric oxide-boosting supplements below.  Here's the legend and the scoring system we use, as well as a couple of notes on the different standards we compare:
❌= Bottom of the barrel: does not satisfy our requirements.
➖= Poor performance compared to other products.
~ = Some criteria are satisfied, but leaves something to be desired.
➕= Acceptable quality. We would consider putting this a minimum for high performers.
✅= This is the best of the best on the market.
How do I know the dose of nitrates in a supplement?
Natural nitrate sources are notoriously variable but you need to know how much is in a product if you want to be able to dose it for your purposes (4mmol for blood pressure management and 6-8.4mmol for performance enhancement).  
The nitrate content of two beets will differ based on what region they're grown in, how they were processed, the season they were harvested, the fertilizers used on them (organic beets have lower nitrate levels than non-organic), and even where in the farm they were grown.  
Because of this variability, any reliable product must be standardized - which means that every batch has been tested and calibrated to a consistent level of nitrates. Without this standardization, you cannot know if the product contains enough nitrates to be useful.
How do I know if a supplement actually delivers that dose?
If the supplement isn't NSF Certified, NSF Certified for Sport, or USP certified you really don't know if your product delivers what's on the label. To give you an idea of what other product and manufacturing certifications tell you, here are some common stamps you might find on a bottle:
GMP

is a basic level of certification that makes sure the manufacturing process is up to snuff, but

says nothing of the product itself

including final quality control, consistency, accuracy, or cross-contamination and banned substance presence in product(s). 

Non-GMO / certified organic

tells you that the original product was grown and produced with organic practices, but says nothing of the manufacturing process, the consistency of the product, the accuracy of it's label, or any cross contamination that may have occurred.

Informed Sport

lets you know that there is no cross contamination in the product, but does not test for accuracy in the label.

USP

certification makes sure that what's on the label is actually in the bottle but doesn't test anything else.

BSCG

certifies a product as "drug-free" and certifies products lot by lot, which lets you know that your supplement has consistently met these standards over time

NSF certified

is a high-level certification that confirms that what's on the label is actually in the bottle in every single batch. In addition, NSF certifies that the supplement passes rigorous standards for contamination and GMP compliance.

NSF Sport

certification is the highest supplement certification.  It's the same certification as NSF, with additional rigor to ensure that every batch is free of 270 banned substances and a variety of other drugs and contaminants.  If you need to know that what you put in your body won't unintentionally end your career or give you nasty side-effects, look for seal of approval from NSF sport.
If it doesn't have NSF or NSF Sport certification, you do not know what's inside the bottle. 
If it doesn't have BSCG Certified Drug Free and Quality certification, 
you do not know what's inside the bottle. 
If it doesn't have Informed Sport certification, you do not know what's inside the bottle. 
Our Rankings:
Here's the ranking we came up with when we looked at the most popular and the highest quality nitric oxide supplements.  Keep reading for the details!
#2 Beet-it ® Sport concentrated beetroot juice 
#3 Humann BeetElite ®
#4 R.W. Knudsen Family ® Organic Beet Juice
#5 Havasu ® Nutrition Beet Root Powder
#6 Viva Deo PureBeets Beetroot Powder
#7 Organifi Red Juice
#8 BulkSupplements Beet powder
#9 Brownwood Acres Beet Juice Concentrate 
#10 Zhou Nutrition ® NO Pro
#11 Evlution Nutrition Pump Mode Nitric Oxide
What Are The Best Nitric Oxide Supplements?
Resync is a new name in the nitrate market and they aim to set the standard by which all other nitric oxide boosters are judged.  The synergistic blend of ingredients optimizes recovery and cardiovascular benefits in a blend that has the highest concentration of natural nitrates and the highest level of quality certification (NSF sport and Banned Substances Control Group Certified Drug Free).  It's suitable for all dieters from keto and low-carb to low-fat, plus the natural ingredients are certified non-GMO. At an attractive price point, you can't beat this nitric oxide-boosting supplement!
If you're not convinced, keep reading to see where other beet root supplements fall short or click here to learn more about what makes Resync stand above all other natural nitrate supplements. 
#2 Beet-it ® Sport concentrated beetroot juice 
Beet-it is the world leader in scientific testing for their products. Despite this, they use "informed sport" certification, which falls short of the highest standard in quality testing. Their handy single-serving concentrated beet supplement is great for on-the go use, but you're wallet will take the hit - especially since you'll have to take multiple shots to get the performance enhancing effects equivalent to powdered, concentrated beet products. 
Beet-it is the leader in scientific testing for beet juice supplements, but their high price and low dose of nitrates should deter you from buying Beet-It on a regular basis. Plus, if want a product that supports recovery and performance across multiple physiological systems, you'll need to search elsewhere.

 
#3 Humann BeetElite ® 
Humann was one of the first companies on the natural nitrate supplement market and a pioneer in the research on nitrate supplements. With ample clinical research to support their claims, there's a lot to like about their athlete-oriented concentrated drink mix. Their "Informed Sport" quality testing falls just short of the very highest standards, and their reputation is further tarnished by a history of multiple failed patents, legal issues, and mischievous marketing practices. The sugar content of 7 grams / serving isn't the best if you're restricting carbs, but at least their ingredients list is natural and non-GMO and doesn't contain any fillers or artificial sweeteners. 

Humann makes high quality products at a premium price, but their history of deceptive marketing practices suggests that you should look carefully at what your buying.  If you're looking for a product that supports multiple systems of energy and recovery beyond just beet root powder, you'd be better looking elsewhere.
#4 R.W. Knudsen Family ® Organic Beet Juice
Plain old beet juice has been a mainstay of crunchy athletes looking to go the natural route. Knudsen produces non-GMO quality juices and their organic beet juice is relatively inexpensive, yet sugary. However, organic beets tend to have lower nitrate levels and are never consistent in their nitrate levels, so you just can't know if you're getting the benefits.

If you insist on drinking your nitrates, this might be better than a conventional beet juice concentrate but it pales in comparison to athletic-level supplements and is quite high in sugar content.

#5 Havasu ® Nutrition Beet Root Powder
Havasu Nutrition takes a spin on the conventional approach with a combination of antioxidants and trending medicinal mushrooms.  This blend is sure to ignite something - but we're not sure exactly what. The blend includes a spread of mushrooms with physical to cognitive to emotional performance enhancing effects. Unfortunately, because of the diverse blend this one might not be suitable for a standard audience or for specific uses.  Although they claim high standards of quality, they do not specify what "third-party" does their testing and they don't go the extra mile to obtain professional sport-level certification.

The unclear benefit of the extra ingredients are a liability and the lack of standardization or high-level certification bumps this one down a notch on our scale.
 
#6 Viva Deo PureBeets Beetroot Powder
If you prefer to mix your beet supplement in smoothies, drinks, or food, Viva Deo offers a very popular, non-GMO pure beetroot powder supplement.  Lack of standardisation will leave you frustrated that you can't know how many nitrates you're actually getting, so it's a crapshoot as to whether each batch will deliver the results you need. Despite this, when it comes to bulk beet powders VivaDeo is deservedly popular as having the highest quality in this class.
This is an average beet powder supplement for when you don't need the consistency of a standardized product or the quality of a tested one.
#7 Organifi Red Juice
Organifi's Red Juice offers an all-around non-GMO / organic superfood supplement for the casual user.  They don't advertise for their nitrate bosting content, but a serving delivers 2.2 gram of their endurance blend, a combination of beet root and energy-enhancing mushrooms cordyceps and reishi. If you're looking for an all-around supplement with antioxidants and polyphenols in addition to nitrates, this may be a good choice.  However if you're looking to up your performance, you'll want higher quality active ingredient extracts and you'll need to know how much of a nitrate boost you're getting with your supplement

If you need a tested and certified athletic supplement or if you're looking for a product with a cleaner and more effective ingredients list, you'll be better off looking elsewhere.


#8 BulkSupplements Beet powder
DIY supplement enthusiasts will appreciate a pure beet root powder supplement, but this one doesn't deliver on the quality.  Though popular due to its price and a good company reputation, BulkSupplemnents beet powder lags behind competitors with a complete absence of high-caliber quality control testing. 

If price is more important to you than quality or consistency, this inexpensive option may be suitable.


#9 Brownwood Acres Beet Juice Concentrate
Brownwood acres non-GMO beet juice concentrate blends takes a conventional beet juice and concentrates it into a more dense source of nitrates.  You still won't know the total dose of nitrates because it's not standardized, but this product strikes a compromise between price and function that may appeal to those who don't want to mix a powder supplement or fork over the cash for quality supplements.

You'll have to take many times the serving size to get close to the nitrate equivalent of an athletic-quality beetroot supplement.
#10 Zhou Nutrition ® NO Pro 
NO Pro by Zhou nutrition is one of the most popular amino acid-based nitric oxide boosters available.  We've already covered that research shows that arginine is not a very good way to boost nitric oxide levels or performance. So what makes this arginine/citrulline supplement stand out from the others? It also contains 160mg of non-GMO beet powder per serving. That's not all that much and it's not standardized (so who knows how much you're really getting!), but it must be doing something considering the limited effectiveness of the other ingredients.

Despite its popularity, Zhou Nutrition's "NO Pro" has a low level of unstandardized beet powder, the main ingredients are artificial and aren't supported by strong science, and their own lab does their quality-control testing for their "lab verified" status. Overall, your money will be better spent elsewhere.

#11 Evlution Nutrition Pump Mode Nitric Oxide
Evlution Nutrition is a new player on the field, making a name for themselves as willing to take the risk on innovative - and unproven - supplements. The main nitric oxide precursor ingredient in this formula is betaine nitrate, which has clinical research to show that it doesn't enhance performance.  Taking into consideration that the other main ingredient is glycerol, which has limited use outside of high-intensity endurance events in hot weather.  

Evlution Nutrition's Pump Mode Nitric Oxide offers a hodge-podge of unrelated ingredients that have limited use in most athletic settings. You'd be better off buying a product with a reputation for evidence and relevance.

It took a few shots of the best supplement on the market, Resync's Recovery Blend, to put this guide together.  We hope this helps next time you're looking for the best natural nitrate supplement!
⭐⭐⭐⭐⭐
We want to hear from you! 
Want the practical details on how to eat to support your heart health, beauty, and mental energy levels? Subscribe to our feed and never miss our best content! 
While some companies try to sell their stuff with clickbait and fake news, we make sure you have the research that backs up our claims. We believe that if you have the right information, you'll be empowered to make the best decision for yourself. That's why we break down the complex science of nutrition and supplements into practical takeaways you can incorporate into your life today. 
Have something to say? Leave a comment or question below and we'll get back to you!
Want to learn more about a topic? Let us know by contacting us or getting in touch on social media!
Works Cited & Related Resources
Wylie, Lee J., et al. "Beetroot Juice and Exercise: Pharmacodynamic and Dose-Response Relationships." Journal of Applied Physiology, vol. 115, no. 3, May 2013, pp. 325–36. physiology.org (Atypon), doi:10.1152/japplphysiol.00372.2013.
Gallardo, Edgar J., and Andrew R. Coggan. "What Is in Your Beet Juice? Nitrate and Nitrite Content of Beet Juice Products Marketed to Athletes." International Journal of Sport Nutrition and Exercise Metabolism, Jan. 2019, pp. 1–5. DOI.org (Crossref), doi:10.1123/ijsnem.2018-0223.